Review by Tree Palmedo, April 2021—
The all-star band has become, in its own way, a time-honored jazz tradition. From Art Blakey's Jazz Messengers to the various ensembles that Blue Note Records has assembled over the years, strong individual performers have been joining forces for reasons that are sometimes creative, sometimes commercial.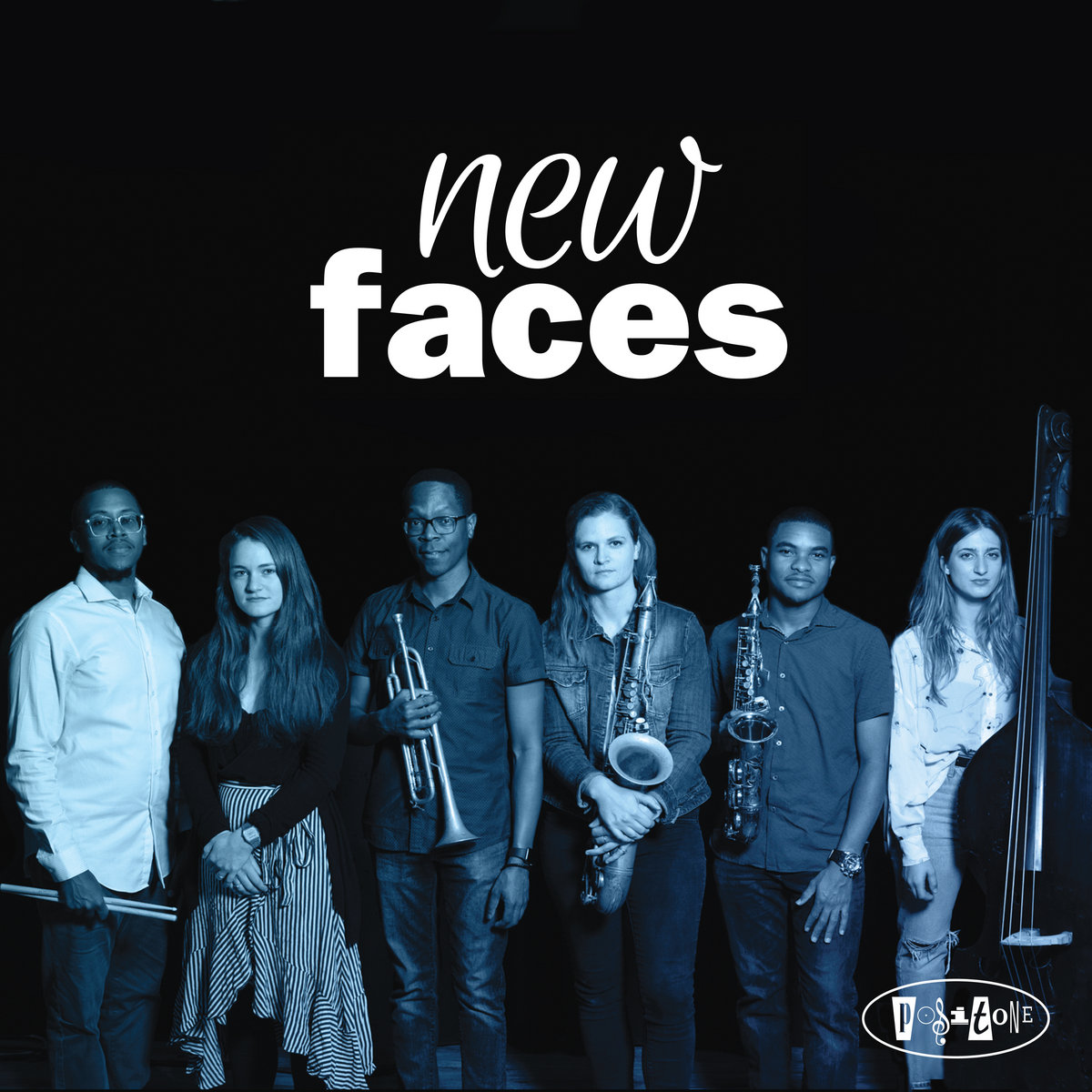 While the New Faces sextet was assembled and produced by Posi-Tone Records label boss Marc Free, the result still feels like it belongs firmly in the creative camp. A formidable ensemble of improviser-composers who have current or past affiliations with the label, the band avoids the pitfalls of many an all-star session: they improvise fluidly and energetically together while nailing every fine-tuned arrangement. Oregon audiences may be especially interested to see Portland natives Nicole Glover and Caili O'Doherty in the tenor and piano chairs, respectively, but the other musicians—drummer Cory Cox, alto saxophonist Markus Howell, bassist Adi Meyerson, and trumpeter Brandon Lee—demand equal attention. And in addition to compositions by each member of the unit, the record also includes pieces by Behn Gillece and Peter Brendler, members of Posi-Tone's previous "New Faces" band that recorded 2018's Straight Forward. 
The truly collective nature of this ensemble results in an eclectic set that mostly coheres around a general late-Blakey post-bop aesthetic. Gillece's "Whistleblower" is a deep-pocketed swinger that allows Lee, Glover and O'Doherty to deliver dynamic, multifaceted solos, and Brendler's "Stop Gap" offers the ensemble an angular melody and lively boogaloo groove to navigate. But it's the band members' compositions that really bring things alive. Glover's "Blues for Tangier" pairs deliciously slow swing with a mysterious melody and some flashes of collective improvisation; O'Doherty's "Runaway" is a gentle journey that offers shades of Mehldau in her piano solo; and Cox's "Luna Lovejoy" is a lovely Latin-inspired piece that lets Howell's flute playing and Lee's muted trumpet shine. 
Myerson is the only band member who gets two compositions on the lineup, and the results are both rewarding. "Afloat" is a beautifully arranged waltz that features billowing solos from Glover and O'Doherty and an assured turn on the melody from Howell's alto. "Hold My Heart," meanwhile, is a glistening ballad on which short melodic improvisations from Howell and O'Doherty interrupt an otherwise through-composed melody, bolstered by sensitive brush-work from Cox.
At times, the band's contrapuntal arrangements can feel like an overworked tactic, a somewhat manufactured element to indicate to the audience that this is more than a mere jam session. But these moments are rare, and the electric group interplay remains the highlight of the record. This collection of "new faces" may never reunite, but their union also serves to generate ample anticipation for each member's work to come.
Buy New Sounds on Bandcamp